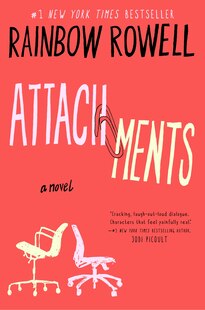 Oh goodness - where do I start with this one. I might as well spoil it right away. I LOVED IT! It might MIGHT just be my favourite chicklit yet. Rainbow Rowell is a force to be reckoned with in this genre. She just has a way of taking these quirky situations and turning them into great stories that make the reader want to keep going. That makes the reader care about what happens. That makes the reader want to find out how the characters worked their way through the maze she has laid out for them.
In Attachments (Rowell's first novel, by the way), Lincoln is the new Internet Security guy for the local paper. It is 1999 and the job is pretty easy - when email messages are flagged for certain words, he needs to read them then send out the warnings to the senders. But then he gets sucked into a personal conversation between two girlfriends and forgets to send them a warning. In fact, doesn't WANT to send them a warning. And so it begins. Over the next few months, he is so drawn into the conversations that he finds himself hoping that Beth and Jennifer's messages are flagged. He has officially gone beyond the scope of his job of monitoring the email and it is too late - he finds himself falling for Beth based on how she comes through in her writing.
He wavers between hating himself for it and continuing to "eavesdrop" because it is the only way to spend time with the woman he cares about so much, since coming clean could only paint him with the creep brush. It is too late to start sending warnings now. Then, one day, the emails shift and he starts to make appearances in the conversation (though he doesn't realize it is him they are discussing until much later). Through friendship, love, marriage, miscarriage and breakups - Lincoln lives to be close to Beth.
Slowly, he realizes his life can't go on like this and begins to make changes for himself - joining a gym, making new friends, finding his own apartment, and, when it finally gets to be too much for him, leaving his job at the paper and coming clean to Beth.
I can't write more without spoiling a truly phenomenal read for you. Suffice it to say - this book is the best of Rainbow Rowell's books that I have read to date. I loved reading a chicklit told from the male view. I also loved how the story swung around. I loved that the story could have had a creepy, voyeuristic tone yet didn't feel creepy - I always knew how Lincoln felt about reading the messages and how trapped he felt in wanting to see how the story continued. I loved the emotion in the story and how I was completely sucked into it - half wanting to see how it played out, half wanting it to never end.
With Valentines day upon us and the long weekend ahead - I think you should pick this one up too. It'd be a lovely way to spend a weekend.