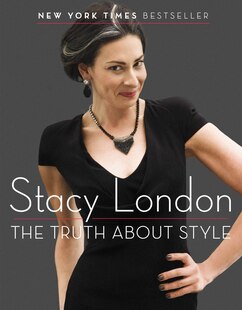 Hubby and I used to spend every Friday night curled up in front of TLC watching "What Not to Wear" (the American one, not the British) and lamenting that we wished someone would nominate us even though we were nowhere near as desperate, style-wise, as most of the people selected. I loved Stacy London's non-nonsense approach to style education and would have loved to have her come tell me what to wear anytime.
Fast forward a few years and TLC has pretty much devolved into a tragic sensationalized reality show network that we rarely watch anymore...and with the end of What Not To Wear fast approaching - I can't remember the last time I watched it. Let's just say it's been a while.
When I saw that Stacy had a new book out, I decided to snap it up. After all - I think it's safe to say that I am in a style rut and with my new short hair I am feeling the need to step it up a bit in the style department lest I become completely invisible in my day to day life. And this book, well let's just say it wasn't quite what I was expecting.
Sure - no-nonsense Stacy is there. Doling out her advice on how to give your style a much needed kick in the pants. What I wasn't expecting, though, was how raw and personal she gets in her "I Get It" sections. For the book, she selected nine women based on letters each had submitted to the selection process. These women each had challenges in their lives and with their bodies. Instead of merely working around these issues - Stacy delves into her own painful past to show how she's been there and how she got past it. To show exactly how she's qualified to tell these women what they need to do to guide their own styles to help heal the past.
She touches on healing severe psoriasis as a child, battling anorexia and binge eating in young adulthood, relationships, breakups, pain and suffering. It is a much different Stacy than the one we met on TV, but she carries the same great advice to help women hold their heads a little higher.
This is a quick read and the women she profiles are easy to relate to and to glean nuggets of Stacy's advice from each. I think it took me less than a couple of hours to read, but I think for anyone looking to up their style game - it's a worthwhile read.