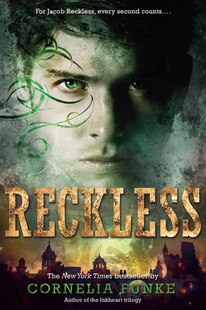 Years ago, I fell in love with Funke's Inkheart trilogy but had yet to read any of her other books. When I saw she had started a new series, I dove in right away.
Reckless is the first book. Jacob Reckless has been visiting Mirrorworld ever since he was a child and discovered that the mirror in his missing Father's office was a magic one that could transport him there. Working as a treasure hunter for the various royalty in that world, he has sought out magical artifacts, cavorted with faeries, conducted business with the dwarves and, most notably, missed out on a large chunk of his younger brother Will's life...all while trying to figure out where his father had vanished to.
Will also found out about Mirrorworld when his brother accidentally brought him along as a child. Since then, Jacob has done his best to protect him from Mirrorworld and the dangers that lurk there. Regardless, the war that has been waging in Mirrorworld has managed to hurt him. A faerie spell concocted by the Dark Faerie who protects the Goyl leader is slowly turning Will into a Goyl - who are fierce warriors who live in cities beneath the ground and have skin of stone and hearts to match. But not only is Will being made Goyl...he is turning into a Jade Goyl - something foretold in a prophecy that the Goyl Leader holds great stock in.
Now, Jacob needs to break the spell and with Will, Clara (Will's girlfriend from their own world), and Fox, Jacob's vixen companion who can show the skin of a fox or a woman - they are on a mission to break the spell before Will is too far gone. It is a journey that will take them to Dwarf villages, Faerie lands and deep beneath the ground in an adventure to prove that family ties can never be broken.
While Inkheart had it's fair share of violence, it still lived firmly in the land of YA Fantasy. Reckless, on the other hand, caters to a much older audience. It is still classified YA, but some of the topics that are handled are something geared toward a more mature reader. It was still a thrilling read, though, and truly speaks to Funke's ability to create new and fantastical worlds.
The next book in the series is out, Fearless. I will probably read it at some point, though I felt like there was a decent amount of closure in this one and don't feel the immediate itch to keep going. I do recommend this first book and, well, you'll know as soon as I dive into the second one.