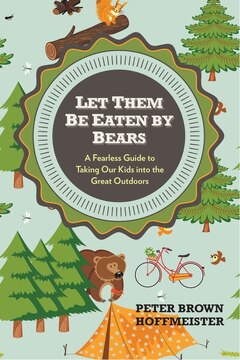 In preparation for this weekend's camping trip, I decided to pick up a book on taking kids into the great outdoors. The title on this one made me laugh and the description made me think of the
Free Range Kids
movement that I am trying to bring into our family. I had a good feeling about it and I was definitely not disappointed.
In this book, Hoffmeister gives many tips and tricks for getting your kids used to the great outdoors while helping you maintain your sanity. He also opens the door for letting go of the need for every experience to be perfect while you are out there. He encourages you to get out there, get dirty, get curious and just do it. Kids will adapt as long as you will.
As I was reading, I immediately loved his writing style. You can tell he is an experience educator and outdoorsman. Most of all, though, you could tell her truly believes that every outdoor experience can only be enriched by the addition of the curiosity of a young person and the toys that only nature can provide (sticks, rocks, lakes...no need to pack those into your already stuffed car).
Helpfully littered throughout the book are little activities to help you acclimate your family to being outside. Most of these tips were a little off-topic for our family, as hubby and I used to be avid outdoors people and our kids would really rather be outdoors than sitting in front of the TV anyway...but I can see how these would be helpful for people who aren't like that. I especially loved the bits about setting goals and expectations for excursions to help avoid disappointment.
While the main focus of the book is about getting outdoors with young people - there are also helpful tips and tricks and thinking points for adults who want to escape as well. It is really a well-rounded outdoors book and will probably be read over and over again in our house. It may even make a permanent home with our camping gear.
With practical tips on how to let your kids be kids again and how to roll with the scrapes, bruises and fears that can accompany outdoor excursions - this little book is chock full of tips and activities to incorporate with kids of any age (and maybe even a few to use on the adults).
Highly recommended.