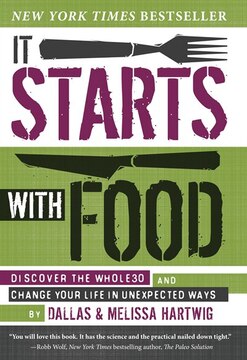 After watching my lovely bloggy friends,
Nikki
and
Solana
, go through Whole30 - my curiosity was at an all time high. But, while I knew the premise of it, I couldn't see that it could be easily adapted to a vegetarian. When Nikki assured me there was a section for vegetarians - I decided to take the leap and download the book for my Kobo. (It helped that I had a discount code and it only ended up being $8)
The idea behind it is that the way we eat today is affecting all of our bodies natural responses to food and it is causing us to become more and more unhealthy and creates an opening for chronic disease to attack our bodies. The first part of the book details the hormonal responses we should have and what we are having instead.
The authors really dumb it down without actually making the reader feel dumb...now I kind of understand what people mean when they say I can do that with tech speak.
After they go through all of the sciency stuff - they get down to it with the eating plan. It is essentailly a modified paleo plan.
Eat real food – meat, seafood, eggs, tons of vegetables, some fruit, and plenty of good fats from fruits, oils, nuts and seeds
Do not consume added sugar of any kind, real or artificial.
Do not consume alcohol
Do not eat grains
Do not eat legumes
Do not eat dairy
Do not consume carrageenan, MSG or sulfites
Do not eat white potatoes
Pretty straightforward, right? Until you add the vegetarian thing into the mix. Luckily, they also have a section on special circumstances that covers off vegetarians.
I had a particular distaste for the way they disdained vegetarianism and "strongly encouraged" us to add in high quality animal proteins to make the most of Whole30. I cannot honestly say that I liked this section because of that tone, but at least it opened up a few more options for me as a veg. I would also be allowed to have some different protein choices like full fat greek yogourt and tofu. They even put together a
handy vegetarian shopping list
that made it much easier when I was buying supplies.
While I am not going to detail my experience so far (almost 2 weeks in), I will say this much...I have never been so frickin bored with food in my life. No word of a lie. And I am not feeling much better. Perhaps it is more dramatic for the people who freshly give up sugar when they start the challenge. I cannot say I would honestly ever feed my kids this way...it does not feel healthy for a vegetarian.
But this is a book review. and I do think the book is fairly well written for what it is. It is an interesting challenge and I know that everyone I've followed their experiences on it has felt better. I guess we'll see where I am at in another 2 weeks. If I can hang on that long. It gets harder and harder to do so everyday and I am seriously tempted to just say I gave it a good try. While eating this way may be very health-restorative for omnivores, us veggies have different needs. I may adapt it just a little bit so I can get through the rest of the challenge with less boredom.
One word of advice, though...pick this up in paper version instead of as an ebook. I found it really hard to read the charts/tables on my reader and there were many times I wish I could have easily flipped back to a previous section. The paper version would have solved this.