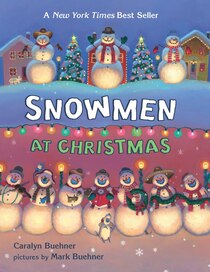 Our elf, Libby, delivered this book to the girls as an early holiday gift. They were quite delighted when they found it, after the elf had finished reading it herself. It is a board book that is sized perfectly for toddler hands - a little taller than it is wide.
Snowmen at Christmas is a charming story about what the neighbourhood snowmen do after all of the people have gone to bed. From caroling to sledding to having a party in the town square.
The story is written as a rhyme - something that really drilled itself into my daughters as we read it. Buggie immediately took the book after and started to "read:" in her own little rhyme - which I thought was impressive for only having read the story once.
My daughters loved this. They were pointing at the page and trying to figure out what came next. The illustrations are bright and cheerful. And very detailed. This is great because we are trying to encourage imaginative storytelling and this book gives them plenty of ways to tell the story in a new way when they are reading on their own.
I will touch on this, though it may be a bit controversial - I prefer to keep religion our of my blog for this reason
.
Our family is not religious and I usually try to stay away from religious references in my children's books, but this had one that slipped past me. Luckily it was small and easily glossed over. If you prefer to not have religion in your children's reading as well, you could easily skip over that page without disturbing the story. (I will delete flaming comments to this paragraph. Your religion, your business. My spirituality is my own business)
end controversy
Overall, though, this is a wonderful addition to our holiday library that I think has the ability to grow with my girls as the years pass.