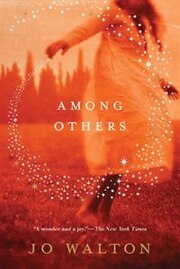 The description for this book sucked me right in.
Startling, unusual, and yet irresistably readable, Among Others is at once the compelling story of a young woman struggling to escape a troubled childhood, a brilliant diary of first encounters with the great novels of modern fantasy and SF, and a spellbinding tale of escape from ancient enchantment.
Raised by a half-mad mother who dabbled in magic, Morwenna Phelps found refuge in two worlds. As a child growing up in Wales, she played among the spirits who made their homes in industrial ruins. But her mind found freedom and promise in the science fiction novels that were her closest companions. Then her mother tried to bend the spirits to dark ends, and Mori was forced to confront her in a magical battle that left her crippled--and her twin sister dead.
Fleeing to her father whom she barely knew, Mori was sent to boarding school in England–a place all but devoid of true magic. There, outcast and alone, she tempted fate by doing magic herself, in an attempt to find a circle of like-minded friends. But her magic also drew the attention of her mother, bringing about a reckoning that could no longer be put off…
Curiosity piqued.
This book kept me guessing and captivated. It was magical and logical and whimsical and constantly left me wondering what was real, what was imagined and what the reality of Mori's world actually was!
The story begins in the middle and you slowly come to realize that something terrible happened that involved her mother, her now-dead twin sister and the fairies that live in the abandoned ironworks around her town in Wales. She has run away to the father she never knew and he has sent her off to boarding school. She also has to cope with a difficult injury that keeps the incident fresh in her mind at all times. The essence of this book is that it is written at the viewpoint of a 15 year old welsh girl in 1979. The story unfolds in her journal as she documents her life.
From there, it becomes a coming of age story where she learns the value of magic, books, and friendship, the taste of early romance and how to cope in a world she is nowhere near understanding to help her overcome her own fears of the past and guide her to her future.
One of the best books I have read this year. Even in mulling it over in my mind after finishing the last page - I still find myself wondering how much of it is real and how much of it existed in Mori's mind and her role in all of the events that transpired.
I don't want to give away plot details because I think it would muddy the story for you when you read it (and I do think you should read it). I have also come away with a zillion books I want to read. I also loved every moment where Mori's world referenced a Sci-fi or Fantasy book and pulled the theme of the book into the reality of her world. Finding comfort in Tolkien made me smile so much that I had to highlight this passage in my Kobo:
I am reading Lord of the Rings. I suddenly wanted to. I almost know it by heart, but I can still sink right into it. I know no other book that is so much like going on a journey. When I put it down to write this, I feel as if I am also waiting with Pippin for the echoes of that stone down the well. (page 101, Kobo edition)
Walton captured this and so many other wonderful moments in similar fashion.
And I should note that, while this book is written from the point of view of a 15 year old girl - I wouldn't necessarily consider this YA. It deals with mature themes like sexuality, death and decisions that are on a much higher level than a YA book would typically touch.
I have been lacking in time to read lately, but I am so happy I took the time to read through this - it has challenged my imagination and made me happy I will have much recovery time in the coming months to slip inside many other brilliant and original stories.
Highly recommended.