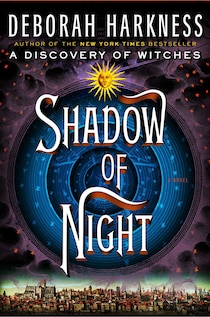 I loved
Deborah Harkness's A Discovery of Witches
so was very excited when I heard the sequel, Shadow of Night was being released last month! Now that I have finished it, I think I can safely say it will end up being amongst the best books I have read in 2012.
Harkness weaves an amazing story. This one felt like Breaking Dawn meets the Time Traveller's Wife meets The Immortal Nicholas Flamel. But it was entirely its own story - these were just the feelings I drew from it.
In the sequel, Diana and Matthew have timewalked back to 1590 to find the Ashmole 782 manuscript before the book was bound and the pages removed. Diana is suddenly completely out of her element - back to a time before women's lib and freer fashion choices were available. She cannot control her magic and is beginning to wonder exactly who she is in terms of the magical community.
Matthew is having a conundrum of his own - he is now in a time where a) he still lives and b) where his father still lives. The beliefs he held in 1590 the first time around have been altered forever by his beloved Diana but to help the witches of that time would alter history forever.
The journey takes them from Oxford to France to London to Prague. Into the courts of Queen Elizabeth I and Emperor Rudolf. Characters like Christopher Marlowe, William Shakespeare, John Dee and Mary Sidney dance across the pages.
After an extensive search, Diana finally has a group of witches to teach her to control her magic and to reveal what she really is and why she has never aligned perfectly with other witches.
And then there is the child to consider...but everyone knows a witch and a vampire can't conceive.
I don't want to give too much. I REALLY want everyone to read this one and fall as in love with it as I am. So worth it! The writing is beautiful and captivating. The story completely envelops you. I also loved how a few chapters throughout the book are flashes to modern day and a glimpse at how, even without intending to, time travel can produce a ripple effect through the ages.
For the famous writers littered throughout the characters - I love the fun she had with them and how she had her own characters influence the most famous works of these infamous beings. It was really well done.
So go get it. Now. Buy it. Download it. I don't care...but you need to read these books! You're welcome.