Ok - so I just joined the Ready For Summer Challenge that I found out about from
Shannon at Every Step Counts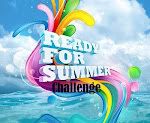 The premise is simple...
This challenge starts
Monday 26th of March
, and lasts until
June 3rd
. That's 10 weeks of challenge fun for you!
There are four basic goal categories:
weight loss goal
My goal is to get to my goal weight
non-scale goal
2:15 Half Marathon
exercise goal
Working out 5 days a week
nutrition goal
Making healthier choices and leaving a deficit in My Fitness Pal each day
I'm excited to get started. It will be good to keep me motivated so I can hit my goals in time for summer!
Who's with me?