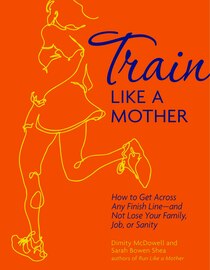 A few weeks ago, I profiled the first book by these awesome ladies - Run Like a Mother. Well, I've spent two years running like a mother...now I am ready for a book on how to train like one...and, just like that, it is delivered! I initially bought this in ebook...but couldn't resist when I saw it in print as well. Now I can take it wherever I go!
Like the first book, this one is filled with essays and anecdotes about being a mother runner. Where this book diverges from the first is that it provides you with mommy-friendly training plans for each race distance. One to finish it..another to own it. My favourite part of the training plan, which were developed by Christine Hinton, is how they show runs that are "MUST NOT SKIP" runs and the ones that you can skip if you need to - FINALLY a training plan that is flexible enough to understand a mom! To understand that life happens and that we don't want to spend our time worrying about a missed marathon training run.
My favourite parts of this book were:
(page numbers from my print edition - ebook may vary)
The training plans (chapters 3-6) - though I will need to mark them up with Kilometre conversions
The Relay walk through (pgs 59-62) - I am so sharing these with my K100 team!
The Mud Run tips (pgs 46-47) - must remember these if I ever decide to tackle a mud hero race
Tips for racing with friends - to stay or to go (pgs 66-68)
Best time to take on a Marathon (pg 89) - awesome thinking points, especially for moms
The Marathon Ready Cycling Plan (pgs156- 160) - great for the injured runner
How to train your cheering section (pgs 187-188)
This book carries on the same tone as the first and, by this point, Sarah and Dimity feel like old friends. Like the moms you already run with on the weekend. They address all of the aspects of training from a woman's perspective and a mother's time frame. Despite the fact that this book is targeted at moms, I think it could benefit any busy woman. And if that busy woman plans to one day become a mom, then she might end up better prepared for what it will mean for her running when the time comes.
So there you have it. I didn't realize how much I anticipated this book until it was finally here. And it was definitely worth the wait. If anything - it is a step away from "coping with kids" to "letting the runner mom in you thrive". Highly recommended.