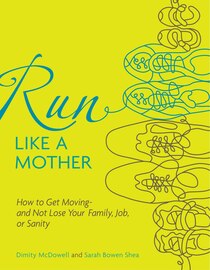 While I read my way through the Game of Thrones series, I am going to post reviews to books I read in the past and loved (or had something worth saying about).
I first read
Run Like a Mother
(RLAM) shortly after I took up running. I believe if there is only one book a woman should read about running - this is it. Whether your a mom or not it truly applies to women runners (by my experience) and shouldn't be missed.
The book is filled with helpful advice, running playlists, personal essays and much more. The authors wanted to create a dialogue that felt like the conversations girlfriends have on long runs and I would have to say they truly succeeded. I particularly like the section on Mental Toughness!
Perhaps the more important thing about RLAM is not the book itself, but the community it has spawned. Mother Runners from all over the world now connect through the
Another Mother Runner Blog
,
Facebook
and Twitter (
Sarah
|
Dimity
). It has opened up the huge world of mom runner bloggers and enabled them to share experiences and connect online. The book was the mother of the movement but her children are strong, vocal and ever-ready to help another mother runner.
In many ways, every mom runner I have met online (and more than a couple in person) have been because of connections that started on this site: blogs I was introduced to, twitter accounts I started to follow, etc.
The best part of it all is that they have a new book coming out this month that I CANNOT wait to get my hands on and my eyes into!
Train Like a Mother
is coming out on March 20! Eeeee!