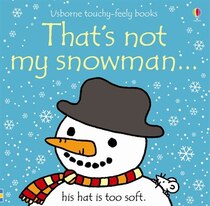 Some of my Daughters' favourite books have been from the Usbourne Books Series "That's not my _____". We have "That's not my bear!", "That's Not My Bunny!" and "That's Not My Puppy" They are beloved board books and the girls still love petting all of the different textures in the simple story lines.
Imagine my glee when we were wandering in Indigo and happened upon "That's Not My Reindeer", That's Not My Santa!" and "That's Not My Snowman!" Simple holiday stories combined with tactile elements to guide the story along. I'd say they would be perfect for maybe the under 2 year old crowd.
My girls are starting to be a bit old for the stories, so I took advantage of the bookstore and read these to them there. OK - yes, I'm a bad shopper, but I wanted to gauge reactions before adding them to the library.I think if I had found these last year, they would have been big hits, but the stories didn't captivate them as much as they might have a year ago. I thought the stories were still simple and cute. As a busy mom, I appreciate the short length of the books <wink, wink> - especially after reading the entire Night Before Christmas poem night after night for the entire month!
So, my verdict is that if you are a parent to kids under 2 - OR if you have someone in that age range to shop for - Pick these up. They are sure to be fast favourites.