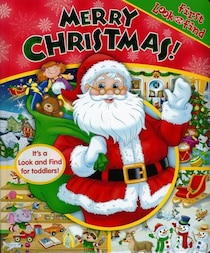 We are always trying to teach our girlies about observing the details of the world around them. That is the reason I really like these Look and Find books that are all over the place these days. We have several of them featuring popular cartoon characters and I was so excited when I found this one featuring our beloved "Ho-Ho!"
Best of all - Indigo had it on the bargain rack for only $10!
The principle behind the Look and Find books is that there is a larger picture and then , in a sidebar, is a list of images taken from the picture. The child then has to compare the little snippets to the larger picture to see if they can find the elements within.
My own midgets love flipping through the pages and seeing who can find the objects fastest. The books are oversized so it makes it easier to see details and for more than one kid to get in on the game.
I think they are about perfect for my 2.5 year olds, but this one could be good for between ages 1-4 as it provides a nice little holiday activity and can help them get into the spirit too!
This is the last of my reviews of kids holiday books! I hope you've enjoyed my take (and my girlies testing) of these this month! I'll be back with more next December!
Happy Holidays!