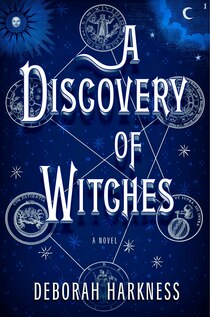 Phew. Finished just in time to feature it this week. Sorry for the late post but it's worth it - I promise.
It has been a long time since a contemporary fantasy has captivated me like this one did - all 800 pages worth. This one was witches and vampires and daemons and romance and science through and through. It was a little like Twilight, but for adults and with real research and history to support the storyline. So good.
Perhaps I should take a moment to elaborate why I draw the comparison to Twilight, because aside from the handsome vampire and the forbidden romance, the two books do little more than live in a similar world. It is just a similarity that popped into my head as I was reading it. I loved Twilight and I loved this - but Discovery has much more meat to it.
This is the story of a witch named Diana Bishop who has long denied her magic. Despite coming from two powerful magical lineages, she feels compelled to make it on her own and build her reputation in a mundane way. With her background as a historian and an expert in alchemical studies, she is working late in the
Bodleian
Library at Oxford when she encounters the Ashmole 782 - an alchemy manuscript that she can feel has a powerful spell placed on it. With the touch of her hand - she breaks the spell and opens the book only to discover it is concealing a secret. Shortly after returning the manuscript, she finds herself surrounded by creatures - vampires, witches and daemons - who all want to know what is contained within the Ashmole and are willing to go to any lengths to acquire this manuscript that has been missing for over a century.
Amongst these creatures is the gorgeous Matthew Clairmont - a scientist with a speciality in DNA...and a vampire. He wants to know the secret of the manuscript but he doesn't expect the captivation that comes when he meets Diana. He is instantly compelled to protect her from the creatures who would do anything to discover the source of her power for themselves and to harness this power to reveal the secret in the Ashmole.
As the pages progress, you are introduced to a whole host of interesting characters as both Diana and Matthew's families are revealed. The character development is absolutely phenomenal. And it extends beyond the beings as the houses and surroundings become characters in the story.
I don't want to go too far into the specifics of the plot because I think this book is simply magical. It is not only a pleasure to read and become immersed in the magic of this world - it is also truly interesting and laced with delightful historical factoids and connections. I didn't even realize how long it was until I read another glowing review of it. The book is a story you never want to end. I am so happy that it is merely book one of a trilogy because I know it is only a matter of months until I can jump in again.
If you like magic at all or were similarly smitten with the Twilight books - I highly recommend picking this one up. It sucks you in immediately and doesn't let you go until the last word. I finished it this morning and I almost want to start it all over again because I am not ready to be released from it's spell.